Orangeville Snowmobile Club
A member of the Huronia Snowmobile Southern Zone and part of the B109 Trail System in District 4 in Southern Ontario.
Driver Training for 2016/17
Sunday December 4th 9am-3pm
Sunday December 18th 9am-3pm
Remember to register early as classes fill up very quickly.
You must be 12 yrs old at the time of registration.
The cost is $40.00 (includes course materials).
For more information or to register, please call Tina at 519-341-5277 or email ktjshelton@yahoo.ca
---
Club Meetings
Meetings are usually held the third Monday of each month at the Dufferin North Peel Anglers and Hunters County Rd 16 and Blind Line. 7:30 PM
As always the meeting is open to all !
---
Club Election Results
A few key changes were made to the club executive at the September meeting. Congratulations to
Don Distasi
, the new President of the Orangeville Snowmobile Club, and David Fraser, who has taken on the Treasurer position.
---
Permits 2016/17
Buy Your 2016 Ontario Trail Permit Online and Save!
Buy where you ride!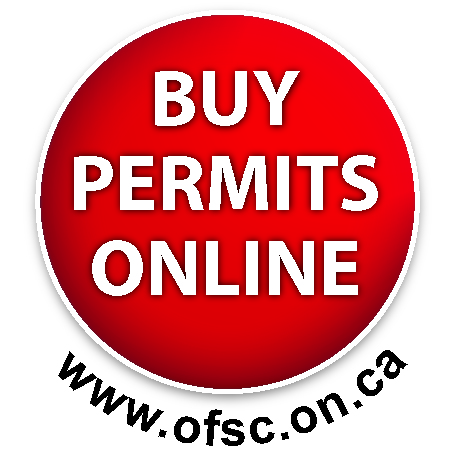 Before Nov 1 - Online only - $180 click here
Before Dec 1st - $210
Regular season price - $260
---
Pot Luck Dinner
Sat Nov 7th2 at the Angler and Hunters,5:30. Great family friendly event with food and lots of snowmobile chatter!
---
Donation from Dufferin Wind Power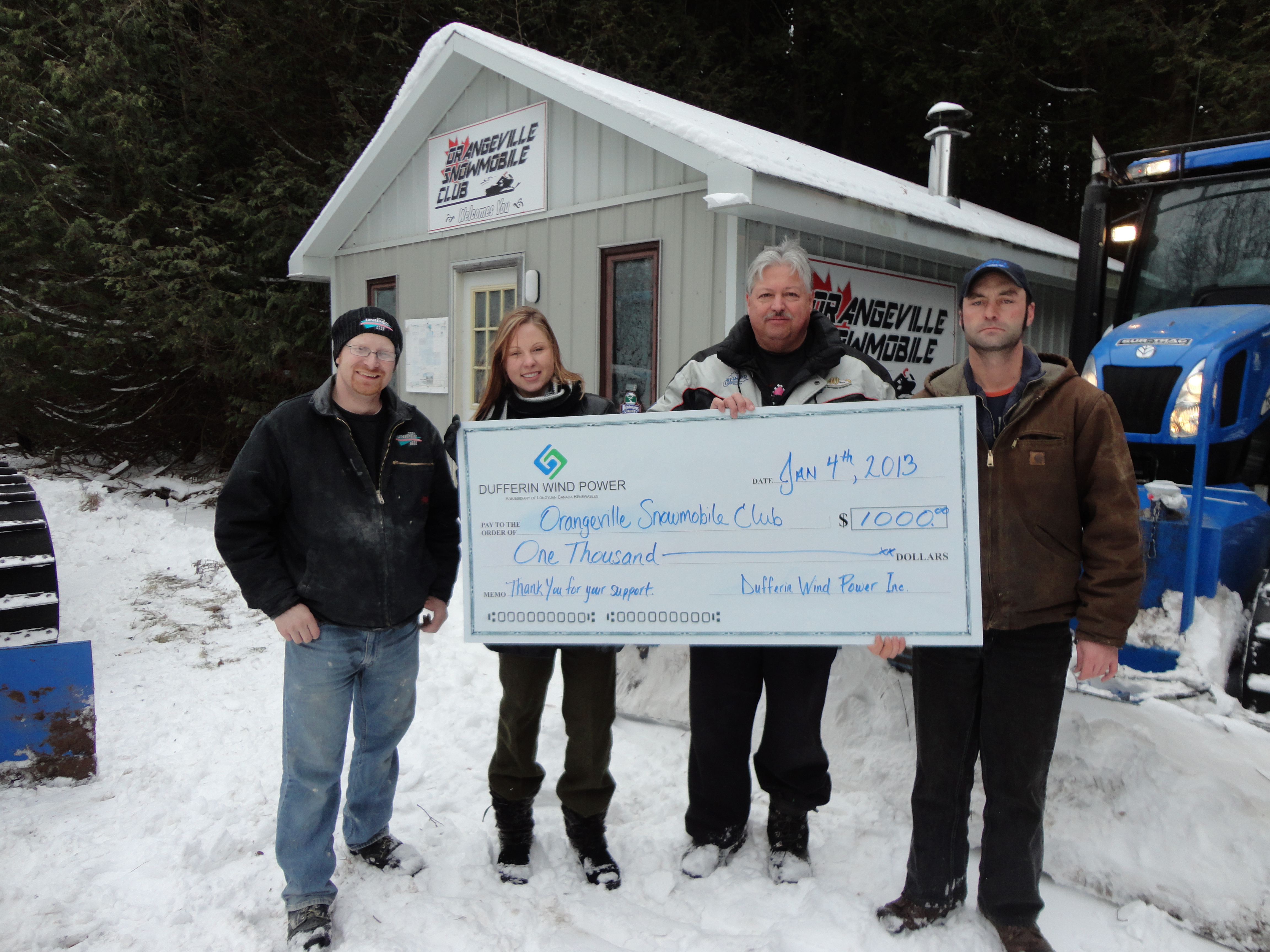 From the left is Michael Schuetz, Orangeville Snowmobile Club Trail Captain, Michelle Sage Dufferin Wind Power Inc, Zen Slipenkyj, President of Orangeville Snowmobile Club and Grant Parkinson the clubs Groomer coordinator.
The Orangeville Snowmobile Club received a welcome surprise from Dufferin Wind Power Inc, in the form of a donation to help offset some of the costs of the shared trail through Dufferin County. Dufferin Wind Power will be running power from their wind farm to Orangeville and the least disruptive route is the former CP rail line that is now used as a snowmobile trail in the winter and an ATV trail (North of 89Hwy) in the summer. Zen Slipenkyj, President of Orangeville Snowmobile Club accepted the cheque, in front of their clubhouse, and said it would go to good use to improve our trail system. Each year we try and reduce the number of trails that have to run along roads or through ditches, and move them to private land but this is a difficult task. This year we were successful in moving one section of the B109 from Hwy 9 and onto farm land in the area. We are working hard to move the last piece for next season.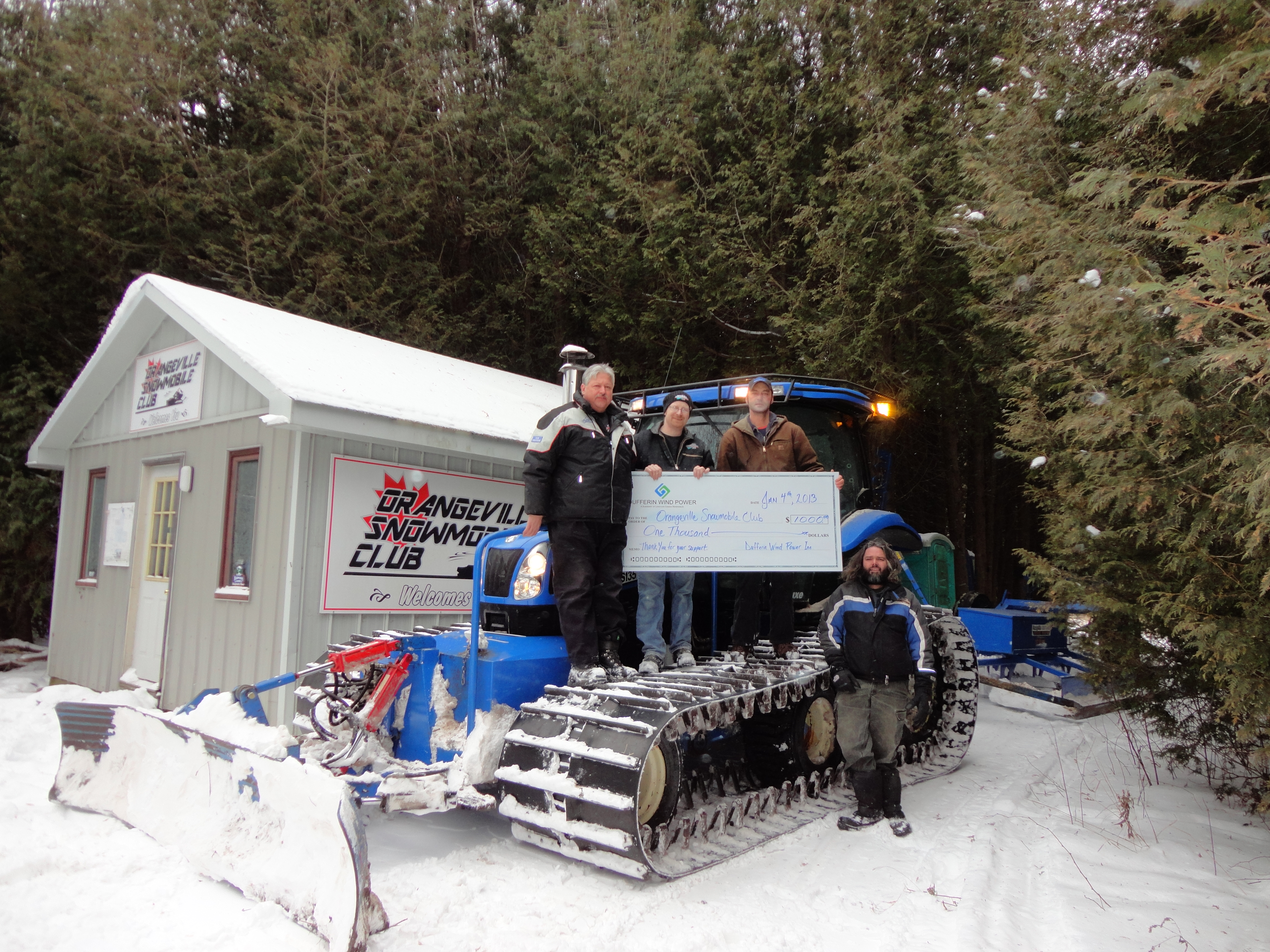 Although the weather has not cooperated with our local snowmobile clubs, for the last few seasons, the work of installing and removing trails has stayed the same. The club has also seen an increase in sign theft and damaged stakes with lack of snow, an unnecessary cost for the club to bear.
---
Why Should I Volunteer?
Often I hear the words, I paid for my permit why should I volunteer as well?
Most who have volunteered quickly learn that the reason we have a $250 permit is because of all the volunteers that work countless hours to insure we have a fantastic trail system in our province. In fact the $250, does not cover the costs with all the volunteer hours but thanks to the funds from the Provincial Government the annual costs are just covered.
But back to why should I volunteer, snowmobilers are a group that will give and help anyone. Have you ever stopped on the side of a trail and had every sled stop and make sure everything is OK before they go by? Well if you do need help they are all there to help. This goes further, not to just on the trail, as a few examples, I was installing a hardwood floor and without being asked, Mike shows up, with tools, and says do you need a hand? Wow now where else do you meet people like that? Many of us have been stuck, sometimes in the mud, but when a call goes out, these same volunteers, make sure the equipment that is needed, is there, and drop everything from Grocery shopping to Christmas dinner to help out.
Orangeville and District is very lucky to have a core group of over 20 volunteers, who are willing to help anyone who appreciates the sport we all love.
We do not have a clique, everyone's welcome, and their thoughts listened to, and the group steers the ship. We all have fun, and any tongue and cheek comments are meant to instill laughter as we all truly care for and support each other.
Recently we have seen more couples and family's involved, and the the ages range from 16 to 70 but yet we all work as one unit.
Everyone is welcome to come out to any meeting, and observe then step up and volunteer, I can tell you that you will get back much more than you put in!
---